Meet Our Staff at the Capri Location in Kelowna, BC
When you visit the Expert Hearing Solutions audiology clinic in Kelowna, located in the Capri Mall,  you will find these awesome staff members ready to help you.
Aswin Vijayakumar
Registered Audiologist and Registered Hearing Instrument Practitioner
Aswin is an Audiologist and registered member of the College of Speech and Hearing Health Professionals of British Columbia (CSHHPBC). He has received a Masters degree in Audiology from Osmania University, India in 2009 and has an Advanced Certificate in Cerumen (Ear Wax) Management.
Aswin is passionate about helping people with hearing problems. He has been helping clients at Expert Hearing Solutions improve their hearing communication skills with a Patient-Centered Practice since 2014. Prior to this, Aswin has worked in private practices and ENT offices in Australia and India for 5 years.
Aswin has always specialized in amplification since his first work experience; and so has a great deal of experience working with hearing aids and helping people to adjust to them. He has extensive experience in both diagnostic hearing assessments and amplification. Aswin regularly attends educational conferences and seminars, staying current on hearing aid/ tinnitus device technology and research.
---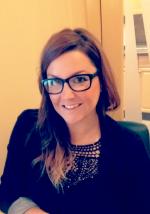 Jessie Lessard
Registered Hearing Instrument Practitioner
Jessie Lessard is a Registered Hearing Instrument Practitioner and Office Administrator who is devoted to providing excellent client experiences. Her number one priority is to ensure each and every client who attends Expert Hearing Solutions knows how much they are valued, and she will go above and beyond to do so.
Jessie has been working with Expert Hearing for 5 years and is passionate about helping people with hearing difficulties. She continues to study and gain knowledge about amplification and how to improve communication and listening environments for her clients.
Meaghan Andersen
HIP Intern
Meaghan Andersen is a Hearing Instrument Practitioner Intern and customer service professional. She is devoted to helping her patients hear better in all environments and committed to ensuring the best experience possible for each person who walks into her office!
Lindsay Allwright
Office Assistant
Lindsay is the friendly face you can find working in our clinic every Saturday as well as part time on week days. She has numerous years of customer service experience and is currently studying nursing full time. A bubbly and happy individual, Lindsay finds herself always making our clients smile. Lindsay has a passion for helping people and genuinely cares to make a difference in the lives of those she meets. She strives to problem solve and explore all options with clients in order for them to get the best experience in their hearing journey, all while taking her time to build a relationship with each client who comes in.
---
Cellina Betchuk
Office Assistant
Cellina Betchuk is a customer service professional committed to helping people in our Gordon St office location.
Need an appointment at our audiology clinic in Kelowna? Contact us today!